Conference Proceeding on South Asia Regional Inaugural Conference of SARI/EI on 'Cross-Border Electricity Trade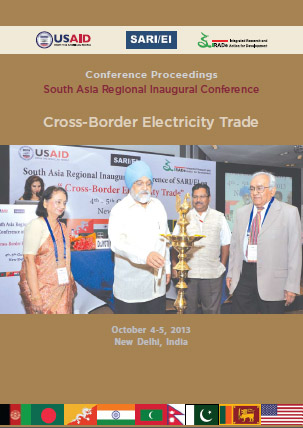 The South Asia Regional Inaugural Conference of SARI/EI on 'Cross-Border Electricity Trade' was held from October 4th-5th, 2013 in New Delhi, India. The conference launched the SARI/EI program to gain acceptance for its goals among the South Asian Countries, identify potential steps towards integration of power systems in South Asia, initiate a concrete and constructive discussion on the vision and road map for the South Asian Electricity Market, discuss on the role and strategic engagement of private sector in CBET and deliberate on international best practices as far as regional power markets are concerned. The 2nd day of the two-day's conference witnessed live telecast of the inauguration of 500MW India-Bangladesh link by the Prime Minister of India, Dr. Manmohan Singh and Ms. Sheikh Hasina Wajed, Prime Minister of Bangladesh which is a major milestone towards the establishment of CBET in the region. Participants broadly included representatives from governments, ministries/departments of Power & Energy, regulatory commissions, planning authorities of each South Asian country, Multilateral Development Banks (MDBs), power equipment manufacturers/power developers, and Research & Development organizations.
Taming Diesel Subsidy to Curtail Inflation and Foster Economic Growth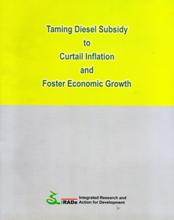 Government is reluctant to raise diesel price fully for fear that it might lead to inflation, even though administered price of petroleum products leads to large under-recoveries. Partial financing of under-recoveries by the government is done by direct budgetary support and indirectly by the Public sector oil marketing companies (OMCs) and upstream oil companies (ONGC and OIL). These high levels of under-recoveries raise the fiscal deficit, which in turn leads to higher money supply resulting in higher inflation prompting Reserve Bank to raise interest rate that lowers investment and economic growth rate over time. While steps have been taken by the government to decontrol prices of petrol, LPG and kerosene, diesel continues to be heavily subsidized, as a change in status quo may lead to inflation in the short term. The aim of the study is to assess the alternative road maps for diesel price reform in India.
Sponsored by Shakti Sustainable Energy Foundation and the Ministry of Finance.
Energy and sustainable development for India – Energy (2009)

This is the Editorial Introduction and commentary to the special issue of Energy, "Energy and its sustainable development for India", which contains multiple contributions from IRADe and features IRADe's Executive Director, Dr. Jyoti Parikh, as guest editor.

Download
Techno-economic Assessment of Bio-energy in India (2004)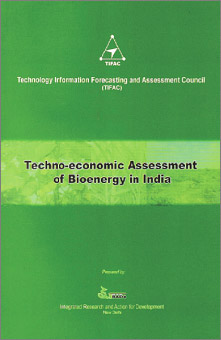 "Background Paper on Bioenergy" reflects on various issues of bio-energy in India. The study found that among various bioenergy options in India, biodiesel, bioethanol, and biomass gasification are the most relevant.
Sponsored by: Technology Information Forecasting and Assessment Council (TIFAC) - www.tifac.org

Download Report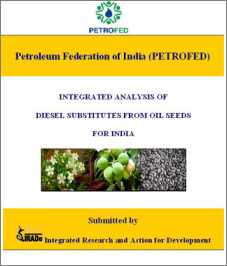 Integrated Analysis of Diesel Substitutes from Oil Seeds for India

The Petroleum Federation of India (PetroFed) awarded IRADe a project entitled "Integrated Analysis of Diesel Substitutes from oil seeds for India". The key objectives that the study entailed were:
Overview of methods/best practices of Jatropha plantations and other oil-bearing trees.

Analysis of existing bio-diesel oil–extraction, blending and processing techniques

Review of present commercial end-use technology

Potential of bio-fuel project from CDM perspective

Identification of the gaps between oil industry and policy maker.
The report reviews the entire mechanism of biodiesel production, beginning from overview of oilseeds plants cultivation practices, extraction and processing of oil with economic analysis, potential of earning CDM credits and finally policy framework and road map for the development of biodiesel in India.

Principal Authors: Dr. Jyoti Parikh and Dr. Amit Walia