Kirit Shantilal Parikh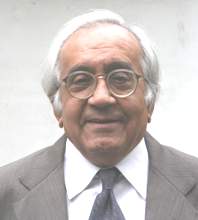 Short CV Kirit Shantilal Parikh
Former Member, Planning Commission, Government of India Chairman, Integrated Research and Action for Development (IRADe), New Delhi

Former (Founder) Director (Vice Chancellor), Indira Gandhi Institute of Development Research (IGIDR), Mumbai - An Advanced Research Institute
He was honoured with Padma Bushan by the President of India in March 2009.
He is a Fellow of the National Academy of Sciences, India.
Dr Kirit S. Parikh has a Doctor of Science in Civil Engineering and a Master's Degree in Economics from MIT, USA. He has been a Professor of Economics since 1967.
He was the Chairman of the Integrated Energy Policy Committee, Planning Commission. He was a Member of the Economic Advisory Council (EAC) of the Prime Ministers of India, Atal Behari Vajpayee, P.V. Narasimha Rao, Chandra Shekhar, V.P.Singh and Rajiv Gandhi. In the past he had also been a member of the National Committee for Environmental Planning & Co-ordination, the National Committee on Science and Technology and the Fuel Policy Committee.
In 2003 he was made honorary life member of the International Association of Agricultural Economists (on an average given to two persons a year in the world). He had been president of The Indian Econometric Society and Gujarat Economic Association. He is on the governing board of many development research Institutes in India. He has also been Chairman of some of these. He is the Chairman of the Indian National Committee (India NMO Committee) for the India-IIASA (International Institute for Applied Systems Analysis) Programme.
Dr. Parikh had been in the past on the Board of Directors of a number of major industrial firms and financial institutions. Among these are Indian Petro-Chemicals Limited, Life Insurance Corporation, Industrial Development Bank of India and State Bank of India.
In 1978 he was given the "Vikram Sarabhai Award" for Systems Analysis and Management. In 1999 he was given the "Visveswaraya Award" by the Engineers' Foundation in Kolhapur. He is also a recipient of "Nayudamma Award" for contribution to the welfare of mankind through developments in the fields of Economics & Energy in February 2005.
He was honoured as the most distinguished and illustrious alumni of the decade from India by the Massachusetts Institute of Technology (MIT), USA in September, 2007. He was conferred the Distinguished Alumnus Award by Indian Institute of Technology (IIT), Kharagpur in September, 2007. He was felicitated as one of the engineering personalities by the Indian Engineering Congress, December 2006
In 1997-98, on sabbatical leave from the IGIDR where he was Founder Director from 1986 till 2000, he was Special Economic Adviser to the Administrator, United Nations Development Programme (UNDP), New York. From 1980-86, as Program Leader of the Food and Agricultural Program of the International Institute for Applied Systems Analysis (IIASA), Austria, he directed a research programme involving 300 person years of efforts of more than 100 researchers from around the world. From 1960-80, he was Professor of Economics (and sometimes Head) of the Indian Statistical Institute (ISI), New Delhi. From 1969-71, as Director of Program Analysis Group (PAG), Department of Atomic Energy (DAE), Government of India, he set up PAG to provide economic, operation research and management advice to different units of the DAE. From 1964-67 he was a Research Associate at the Center for International Studies, MIT.
Dr. Parikh had been the editor of "India Development Report" which provides a non-governmental assessment of India's development and policy options.
Dr Parikh has authored, co-authored and edited 29 books in the areas of
planning,

engineering

water resource management,

appropriate technology for housing,

optimum requirement for fertilizers,

energy systems and policy,

national and international food policies,

trade policies,

general equilibrium modeling,

environmental governance and

natural resources accounting.
He has also published numerous articles.