Integrated Research and Action for Development at UNFCCC COP25
The IPCC Special Report on 1.5 Global Warming is clear: emissions must be reduced by 45% by 2030 in relation to 2010 levels. The survival of people, species and ecosystems depends on this.
A top-level IRADe delegation will attend COP25 in Madrid, Spain to discuss issues related to Climate Resilient Urban Development and Mobilisation of Mitigation Action at State and sub-national levels.
IRADe would present under the Climate Adaptation Action session on 5th December, hosted by the Ministry of Rural Development, at the India Pavilion.
On 6th December, experts from IRADe would deliberate on Mobilisation of Mitigation Action under the Capacity-building Knowledge to Action: Lessons learned from practice session.
Climate Change: Time for Action | IRADe sessions @COP25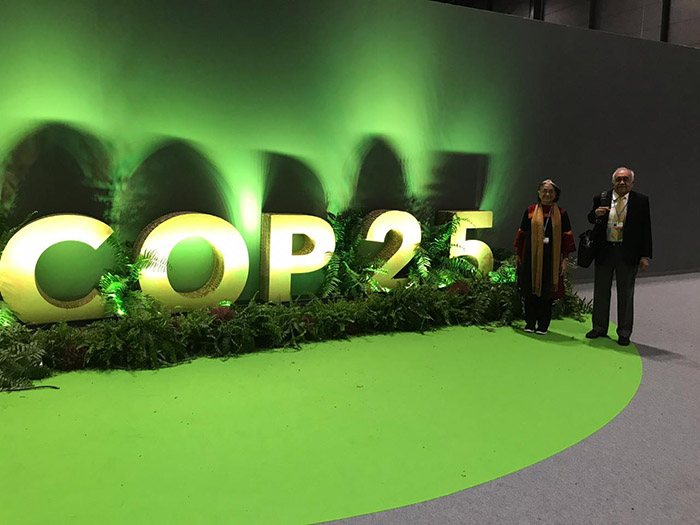 Dr. Jyoti Parikh and Dr. Kirit Parikh at COP25, Chile-Madrid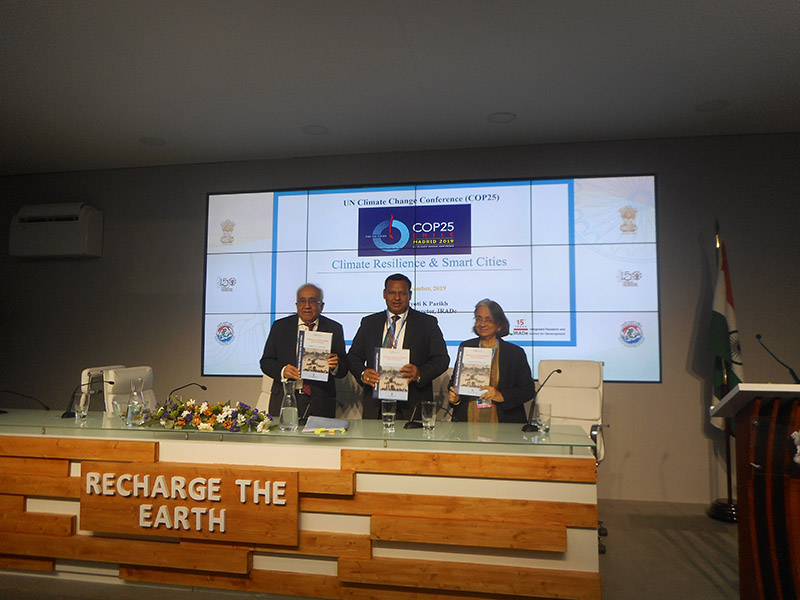 IRADe releases 'Sustainable and Disaster Resilient Urban Development' Report at UNFCCC CPO25 Chile-Madrid
| | | | | |
| --- | --- | --- | --- | --- |
| Date | Time (CET) | Topic of IRADe Presentation | Session Theme | Host |
| 5th December 2019 | 3pm to 5pm at India Pavilion | Climate Smart Urban Development | Climate Adaptation Action | Govt. of India event hosting by MoEFCC and MoRD |
| 6th December 2019 | 5.30pm to 7.30pm at Capacity Building Hub | Mobilizing mitigation action at state and sub-national level | Capacity-building Knowledge to Action (CBK2A) | UNFCCC event with IDRC UNU-EHS as lead partners |
Sustainable Urban Development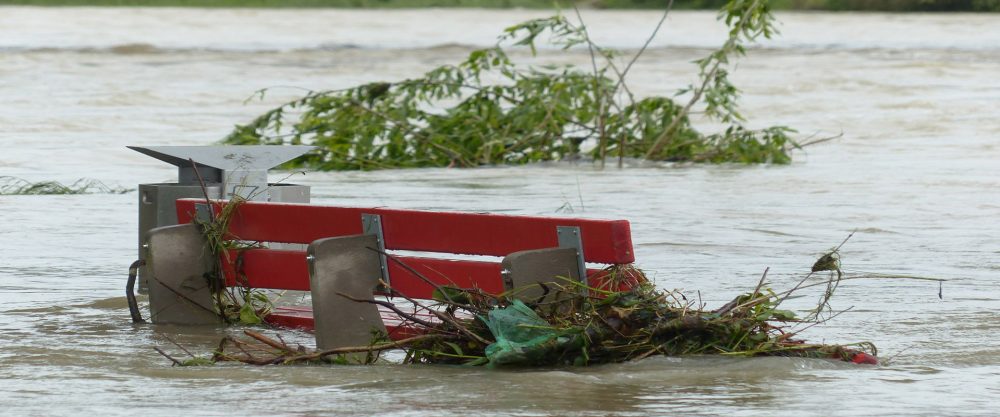 IRADe is designated as Centre of Excellence (CoE), Urban Development and Climate Change, by the Ministry if Urban Development, Government of India. IRADe collaborates with national institutions, state urban departments, urban local bodies, development aid agencies for capacity building, promoting awareness, research and training in the area of climate resilient urban development, disaster risk reduction, health resilience and urban infrastructure. Its experts work with 32 cities across 19 Indian states.
For addressing Climate Change in cities, IRADe has carried out rapid vulnerability assessment of 20 cities, devised roadmap for mainstreaming climate and disaster resilience components in the smart city development plans of 10 cities, piloting urban climate vulnerability index.
Using GIS and Remote Sensing tools, hazard vulnerability and critical infrastructure maps have been developed for 12 cities to help planners and decision- makers devise City Disaster-Management strategies and Resilience Action plans.
For building Health Resilience within cities, the CoE is actively working on developing Climate Adaptive Heat Stress Action Plans, Early Warning System for Dengue and Air Pollution Action Plans.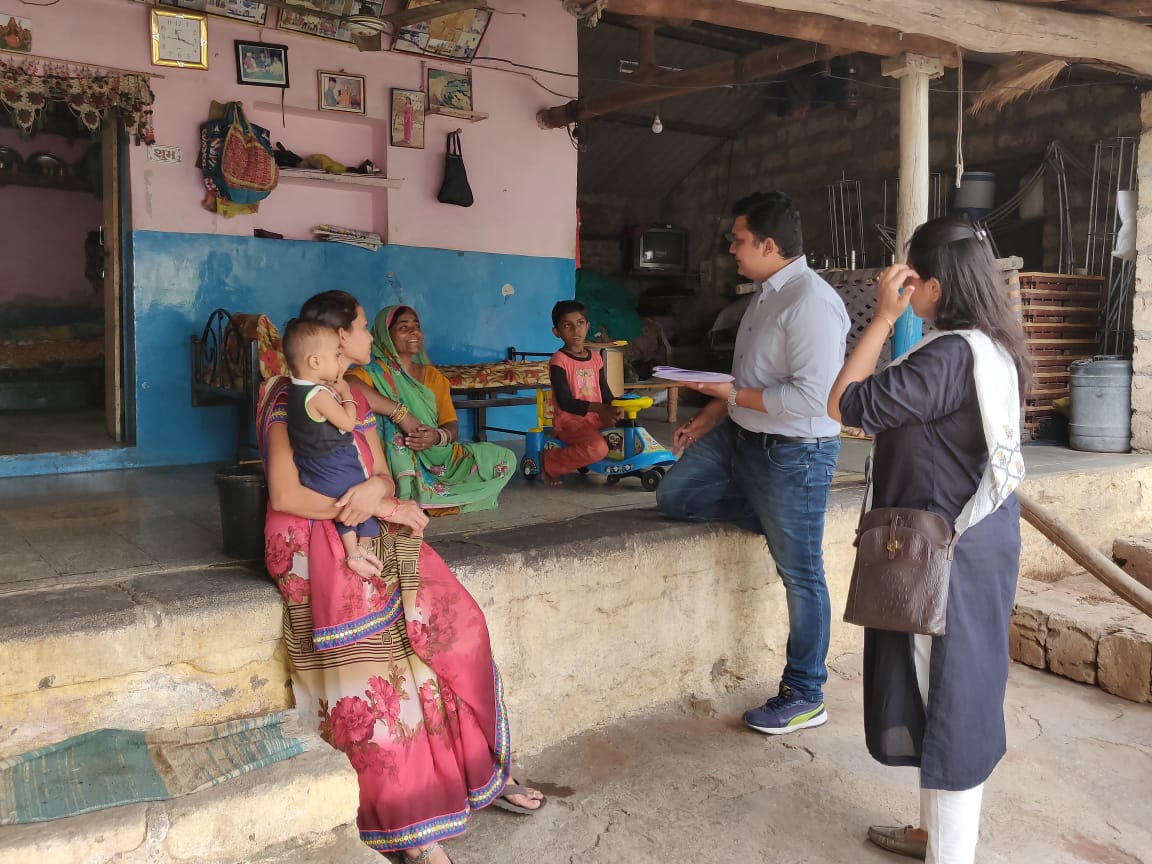 Climate Change and Environment
IRADe has adopted a multi-disciplinary approach and carries out national-level projects for both climate mitigation and adaptation in India.
IRADe extensively covers climate mitigation, adaptation and negotiations. Further, it provides inputs using the activity analysis model areas of low-carbon pathways and Nationally Determined Contributions until 2030 and 2050 for Climate Policies in India. IRADe assists in country reports and provides inputs on negotiating positions, arguments and policy suggestions to ensure equity principles. IRADe provided analytical support to the Ministry of Environment, Forests and Climate Change (MoEFCC) for the Paris Agreement.
IRADe's Environment project portfolio includes Environment Accounting and Valuation for Goa and Andhra Pradesh, with focus on tourism, waste management, air and water pollution, biodiversity and ecosystem management for Marine National Parks.  IRADe organised climate debate in 8 Universities this year, to build Climate Change Awareness.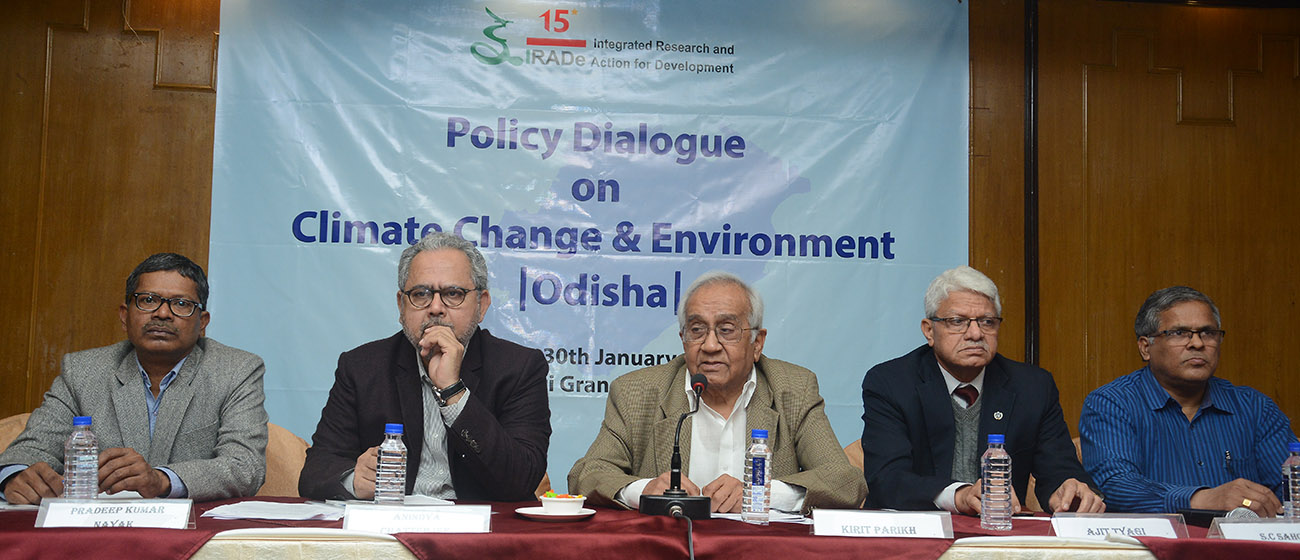 About COP25
The 2019 United Nations Climate Change Conference, also known as COP25, will take place on 2-13 December, in Madrid, Spain. The conference is being held under the presidency of the Chilean government. 
COP25 will follow up the implementation of the Paris Climate Change Agreement.  This seeks to keep global mean temperature rise this century well below 2°C above pre-industrial levels and to pursue efforts to limit the temperature increase to 1.5°C. An Intergovernmental Panel on Climate Change Special Report on Global Warming of 1.5°C said this target was physically possible but would require unprecedented changes in our lifestyle, energy and transport systems.
To know more, visit  https://unfccc.int/cop25