Climate Change & Environment > Publications
Low Carbon Development Pathways for Sustainable India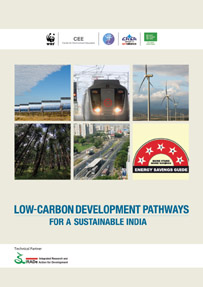 The objective of the study was to use the activity analysis model of the IRADe model, developed under earlier projects, to forecast a low carbon pathway for India up to 2050 without sacrificing on the developmental priorities of India. The study required elaboration on the developmental challenges in India, the minimum level of development that must be reached despite low carbon consideration and attributes of such a minimum development threshold for India. The study was based on two carbon budgets for India- one based on 1990 as the base year and the other based on 2010 as the base year. The study provided scenarios that reach various goals of well being indicators of human development by 2030 and satisfies the two carbon budgets.
The project has been funded by a consortium of organisations working in the field of low carbon growth and climate change. The funding organizations are WWF Germany, WWF India, Centre for Environment Education, LAYA, Church's Auxiliary for Social Action, Bread for the World and German Agro Action.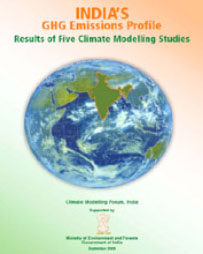 India's GHG Emissions Profile: Results of Five Climate Modeling Studies (2009)
An overview of India's greenhouse gas emissions profile, mitigation options, and associated costs. One of the five climate modeling studies was conducted by IRADe.
Supported by Ministry of Environment and Forests, Government of India
Note: Also see completed projects for other publications